Ozone Edge Kite 2016 V8 Now 20% off Only Red color is left in stock
Product Description
Now 20% off Ozone Edge V8 Kite

Ozone Edge Big Air and Race kite. Buy any new kite complete and get a free Mystic Harness. Only the Red color is left in stock.
THE EDGE HAS A PEDIGREE UNSURPASSED BY ANY OTHER PERFORMANCE KITE TO DATE, NOW IN ITS 8TH VERSION SINCE FIRST INTRODUCING THIS MODEL. THE EDGE HAS CONSISTENTLY PROVEN ITS FREE RIDE PERFORMANCE, BIG AIR CAPABILITIES AND TAKEN RIDERS TO THE TOP OF RACE PODIUMS AROUND THE WORLD.
High performance free ride

Massive boost and hangtime

Warp speed riding

Insane upwind ability

Huge de-power range
Low drag Aramid bridles

4-line pulley-less system

Teijin TechnoForce D2 canopy material

Exceptional hand checked Ozone factory construction
Whether your passion is action packed freeride, big air, foil boarding or racing the Edge delivers high performance in all conditions. A stable yet highly efficient profile yields progressive power delivery and generous boost when you send it. This directly translates to all-round performance on a racecourse allowing you to point higher upwind and lower downwind, all while going faster!
Over the season we have fine-tuned the Edge working on new bridle configurations enhancing the new Edge V8 with a smoother feel on the bar and improved handling characteristics. The Edge V8 is incredibly predictable; learning new big air moves or nailing those foil board and race board tacks has never been easier.
The Edge V8 has been designed using our new highly advanced custom built CAD software. Our designers are able to work with parameters specifically formulated to calculate flexible wings. The Edge V8 incorporates optimised layout of segments and balanced strut positioning resulting in a clean profile and canopy throughout angle of attack changes.
The Edge V8 is constructed with quality Teijin D2 and Teijin Dacron providing a crisper feel and a stronger kite. A low-drag pulley-less bridle system is achieved through optimised load distribution into the attachment points. The bridles are spliced using high quality Aramid line, which is 50% thinner than our standard bridle line giving the Edge a turbo charged feel. Combined with our Race Control System and Race Flying Lines the Edge truly is a winning package.
The Edge V8 size range is expansive, with 5m through to 19m this allows riders to choose exactly what they need in a race regatta or for freeride mega boosting on high wind days.
In gusty or turbulent wind the Edge will be easier to use and handle in both free ride and race situations when compared to the Chrono and R1. We recommend that all intermediate riders use the Edge before considering moving to a foil for free riding or racing.
SIZES
5 / 6 / 7 / 8 / 9 / 10 / 11 / 13 / 15 /17 / 19
RANGE OF USE
DESIGN & PERFORMANCE FEATURES
High performance freeride

Massive boost and hang time

Warp speed riding

Insane upwind ability

Huge de-power range

Low drag Aramid bridles

4-line pulley-less system (no pulleys, no problems)

Comparable feeling throughout the size range

One-Pump system for quick and easy setup

High volume inflate/deflate valve

Multiple trimming options for customized handling and bar pressure

Color coded and numbered fool proof line connectors
CONSTRUCTION FEATURES
Exceptional hand checked Ozone factory construction using the highest quality materials

Teijin TechnoForce D2 canopy material

Teijin Dacron for the L.E. & Struts

Internal reinforcements for improved durability with double layer Dacron inside the LE closing seam

Double stitched bonded seams

Dacron reinforced tip area for load distribution

Reinforced leading edge and struts in high stress areas

Reinforced trailing edge

Light weight & low profile aerodynamic leading edge scuff pads

Unique bladder construction with double layer section in wear areas

Anti line snag tip deflectors

Ozone warranty and back-up service guaranteed
WINDRANGE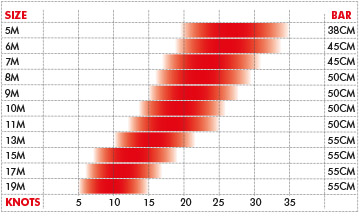 Wind range is indicative only based on an average rider weight of 80kg. Actual range will vary based on rider skill level and type of board used.
To estimate shipping outside of the USA,
1. Put the item in your cart and checkout as if you are going to purchase.
2. Before you commit to buy or pay anything, you will enter your address and choose a shipping option.
3. You can then see the prices for various shipping options.
4. Items shipped outside of the USA must be paid for through PayPal.
Ozone Edge 2014 - Design Tech Talk from Ozone Kites on Vimeo.