Ozone Chrono V2 Foil Kite 10% off!
Ozone Chrono V2 Foil Kite 10% off!
Product Description
Ozone Chrono Kite Version 2 -- more freeride oriented foil kite than Version 1. Now 20% off.
Our design goal with the second version was to take the original Chrono's high performance characteristics and make it easier to use for riders looking for all around ability in any conditions on any surface. The Chrono V2 is more stable and easier to inflate; additionally this model has thicker sheathed Dyneema bridle lines to reduce tangles on the ground. New sizes cover a wider range of conditions to personalize your high performance quiver.

The Chrono V2 is for experienced riders with good kite control skills or previous foil kite experience. It is not difficult to fly, but there are specific techniques required to ground handle and fly high aspect ratio foil kites safely.

Experienced riders will find themselves at home with the Chrono V2. On the water with a Twin-tip the Chrono V2 large sizes are light wind monsters - loads of power, easy to jump and stable. Due to the abundance of power and efficiency, gaining upwind ground is ridiculously easy. In light winds it is impressive how high and floaty jumps can be! When the wind picks up and you are looking for serious height the smaller sizes really shine, no question at all, these are pop and go big machines, just edge hard and send it, too easy!

Riding with a Foil or Race board the benefits are immediately noticeable thanks to the longer lifting period a foil kite gives you during that critical tacking moment compared to an LEI. The combined performance of the kite and these types of boards makes 4 knot riding a true reality.

On the snow the Chrono V2 takes the sport to another level, more power and performance in light winds, extended jump and flight time with a much better glide angle. The improved handling makes it possible to ride in lighter winds just by generating apparent speed, which means you can take a smaller size.

On the land the gains we have made in kite stability mean that you can work on your landboard freestyle moves without worrying about the kite collapsing or falling out of the sky. For buggy riders the improvements mean freestyle or racing maneuvers are easy and more intuitive with smoother coordinated handling.

The Chrono V2 is a closed-cell foil and is water re-launchable, but we recommend that you keep it flying and out of the water if possible! Using the re-launch webbing handle that connects the rear flying lines it is possible to reverse the kite off the water and continue riding. We recommend you practice this technique. An internal drainage channel running through to both wing tips allows any water that may have entered the kite to drain out. The Chrono V2 is not a wave kite and should not be used in waves.

The Chrono V2 features a simple yet effective front line flag out release. After releasing the flag out always check the speed system, bridle lines and flying lines for twists before restart.

The Chrono V2 will require maintenance just like any high performance equipment in racing sports, for example replacing tyres or piston rings on motorbikes. The Speed System and Bridle Lines must be checked after every 60 hours flying time, if they are worn or are not to factory specifications (+ or - 15mm) they must be replaced or the kite will not perform as designed.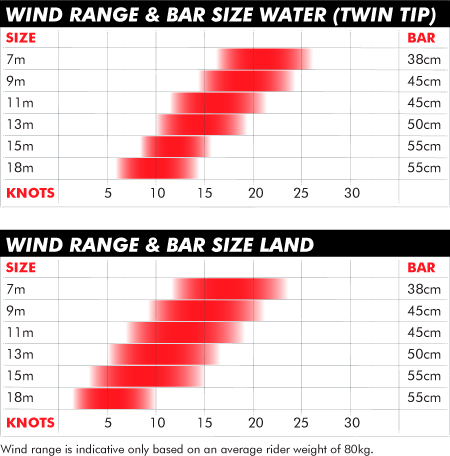 Tech Specs:
Performance Double Surface – The Chrono V2 lightweight double surface design is combined with a mid-high aspect ratio and 46 cells. The high number of cells means the ribs are positioned closer together, creating ultra smooth surfaces with reduced drag and maintaining a clean profile, resulting in superior flight efficiency.

Mid-High Aspect Ratio and New Planform – The aspect ratio and planform have been re-calculated to be an optimum match with the profile for the ideal combination of stability and performance.

Optimized Leading Edge Air Intakes – Newly designed intake valves are precisely positioned along the LE on the upper and lower surfaces. This leads to a stability increase and a more solid kite. The inflation is now easier and safer as the kite rapidly inflates from the center to the wingtips.

Leading Edge Profile Reinforcements – The Leading Edge is reinforced with flexible lightweight plastic battens to maintain the shape of the profile during angle of attack changes and turbulent airflow.

Internal Straps – Internal span-wise straps distribute load across the sail evenly and effectively, while also maintaining a cohesive internal balance controlling the high aspect ratio.

Sheathed Dyneema Bridle Lines – Requiring less maintenance and less likely to tangle. The bridles are well proven; they are the same specification that we use on our Snowkite range. The lines are thicker and stiffer compared to the R1's high performance Kevlar line, and the sheath makes them less prone to damage.

Velcro and Water Out Channels – A 20mm internal channel is shaped into the end of the cells along the trailing edge to allow water run-out between the cells and out of the tips during flight. The Velcro dirt out channels can be opened for cleaning the kite. Always clean and dry your kite by emptying any water, sand or dirt as this will prolong the life of the kite and help it fly as designed.

High Performance Materials – High-tenacity sailcloth with extremely low porosity values and an overall lightweight enabled us to further stabilize the canopy and maximize fast flight characteristics.
Construction Features:
Exceptional hand checked Ozone factory construction using the highest quality materials

High performance light weight canopy material

Leading Edge profile plastic batten reinforcements

Internal reinforcements and strapping improve durability and load distribution

Mesh protected inflation valves for fast inflation and no deflation

Double pulley speed-system, utilizing the latest high spec low friction Ronstan Orbit pulleys

Color coded and numbered fool proof line connectors

Velcro openings on last tip cell for easy wash out of debris and water

Water proof deflation zipper on top center cell for easy and fast deflation
Package Contents
Kite Only
Kite
Large technical bag
Ground stake
Repair pack
Manual
Stickers, keyring
Complete
All items from Kite Only package
Bar and lines
Leash
To estimate shipping outside of the USA:
1. Put the item in your cart and checkout as if you are going to purchase.
2. Before you commit to buy or pay anything, you will enter your address and choose a shipping option
3. You can then see the prices for various shipping options.
4. Items shipped outside of the USA must be paid for through PayPal.
Find Similar Products by Category
Customers also viewed