4m Ozone Uno with New Ozone Contact V4 Compact Bar
4m Ozone Uno with New Ozone Contact V4 Compact Bar
Product Description
Oz
one Uno 4m Kite & New 50cm Ozone Contact V4 "compact" Control Bar with 23m Lines. This is a great setup to learn to kite with and then have the control bar to use on all your other kites after you have moved up to larger kites.
The Uno V2 is a simple, affordable and robust inflatable de-power trainer kite. It's an ideal Kitesurf trainer and is perfect to have as a fun addition in the quiver to get family and friends into kiting! Being a lightweight package it is also easy to travel with. The compact bar helps those with shorter arms reach the trim system.

The kite has been used once and inflated in the store for pictures. The kite has no rips, tears, or repairs and holds air 100%. The bar is new and unused. Responsive, fun, smooth and stable define the Uno V2. It comes in three sizes - 2.5m, 4m and 6m all with enough power to ensure beginners can easily progress to the next level.

The Uno V2 flies with our standard Kitesurf control system, this enables the student to progress easily to larger kites and to remain familiar with the control system set up. We recommend using line lengths of 15-25m.

The Uno V2 is amazing for teaching; the student can learn all the basics of flying an inflatable kite and how to use the release systems while using a small sized kite with less power. The Uno V2 is also ideal for lighter weight riders under 45kg for riding on the water.

The Uno V2 can also be used for first lessons on land. No previous kite experience is required when accompanied by a competent adult kiter or instructor.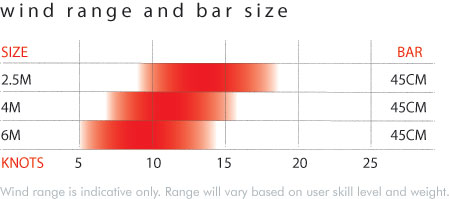 Construction Features:
Exceptional hand checked Ozone factory construction using the highest quality materials.

Double ripstop canopy material.

Teijin Dacron for the L.E. & Struts.

Double stitched bonded seams.

Dacron reinforced tip area for load distribution.

Reinforced leading edge and struts in high stress areas.

Reinforced trailing edge.

Light weight & low profile aerodynamic leading edge scuff pads.

Unique bladder construction with double layer section in wear areas.
Package Contents
Kite Only
Kite
Bag with shoulder strap
Exceptional Ozone Factory Construction - World-class construction in our own factory, using the highest quality materials and hand checked Quality Control at every step. The Ozone factory also manufactures our Paragliding and Speed Wing range; the same Quality Control processes are used across all products.

Innovative Click-In Loop - An all-new push-away quick release with an innovative one-step Click-In reload function that is incredibly intuitive. The release handle fits comfortably in the hand, it is quick and easy to activate the release by pushing the handle away. A self-positioning release mechanism locates automatically, ready to be re-loaded by simply 'clicking' in the loop. The Click-In Loop is AFNOR NF S52-503 certified.

Two Release Modes - The Click-In Loop offers riders a choice of two release modes, the recommended Standard or the optional Expert mode.Three Loop Size Options - Small, Medium and Large size harness loops are available for the Click-In Loop. Choose the Small if you ride hooked in only, have a shorter arm reach or prefer the bar closer to your body. The Medium size is perfect for most riders. The Large size is designed for unhooking or riders with a longer arm reach.

Standard mode offers 100% flag out in all situations by releasing the Click-In Loop or letting go of the bar when un-hooked.

Expert mode offers 100% flag out only when the Click-In Loop is released whilst hooked in, allowing riders practicing handle passes to miss the bar without releasing the kite to flag out (not recommended).

Spinning Head with Anti-twist Flag Out Line - Our custom Stainless Steel Swivel Ring locates into the Click-In Loops rotating internal core. When manually turning the Spinning Head to un-twist front lines, the Flag Out Line rotates in unison with the core keeping all lines twist free.

Soft Bar Ends with Leader Line Adjustment - Soft bar ends for comfort and are less likely to damage lightly constructed boards. The leader lines are adjustable via knots inside the float, simply pull out from the opening to access and adjust to your preference.

Stainless Steel Leader Line Pin - Superior strength is achieved with a Stainless pin running through the bar. This creates an ultra strong and direct connection between the control bar to flying lines.

Light Weight Aluminum Center Piece - CNC cut Aluminum center piece reduces weight. The low friction design reduces wear.

Ergonomic EVA Grip - 3D pressed EVA grip with ergonomic shaping provides the ultimate bar grip.

PU Covered De-Power Line - The tough PU covered de-power line significantly reduces wear when sheeting in and out.

Stainless Steel Trimmer Bracket - The smooth running trimmer bracket prevents trim line wear.

Clamcleat Trimmer - Anodized low abrasion Clamcleat trimmer with custom designed trim grab handle.

Re-launch Balls - Fixed to the leader lines to pull when re-launching the kite.

500kg/300kg Flying Lines - Color coded 500kg front / 300kg back lines using the highest quality Dyneema available.
Product Videos
Ozone Click-In Loop - V4 Control System
02:43
What's in a click? Our latest innovation, the 'Click-In Loop' is a key feature on the latest V4 Control systems. In keeping with a clean & simple design, this all-new quick release incorporates a truly intuitive one-step Click-In reload function. This is a step in the right direction to making your kiting experience safer and easier, wherever your adventures may take you. Find out more at ozonekites.com/products/control-systems Video: LAFO Media (lafomedia.com) Riders: Patrick Blanc & Mauricio Weppart
Ozone Click-In...

What's in a click? Our latest innovation, the 'Click-In Loop'...
Product Videos
Find Similar Products by Category